Student Exchange on Circular Storytelling
We need to move to a circular economy. But how? How do we get people to relate to and act on Climate Change? In this special collaboration project between Villa Gillet (FR) and the Leiden-Delft-Erasmus Centre for Sustainability (NL), we challenge you to build a physical representation of a story about a societal issue and make people act by experiencing it during our festivals. How? By taking part in an international and interdisciplinary team of writers and technicians from France and The Netherlands. You will get 5 ECTS for your participation.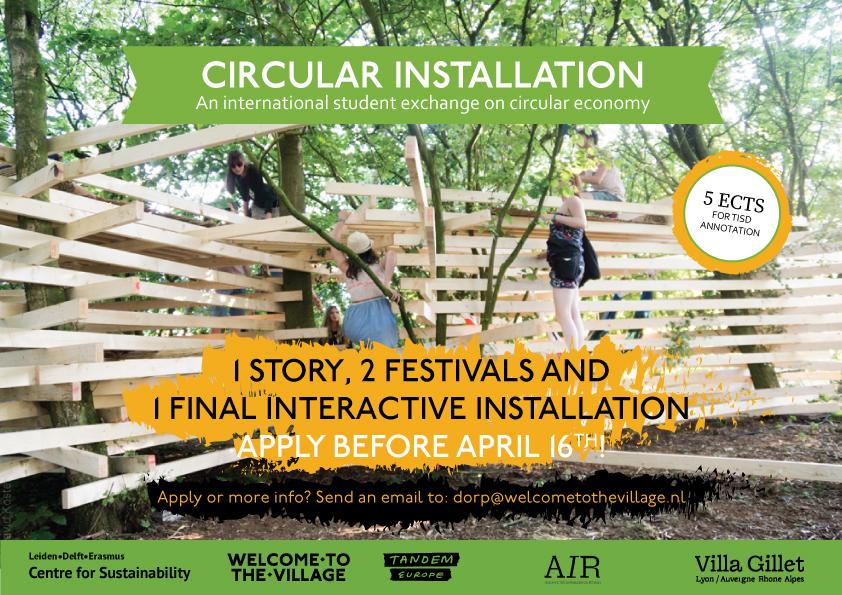 The international project will run for four months from April to July 2018 and takes place in both Lyon, France and Leeuwarden in The Netherlands. The first half of the project will focus on shifting perspectives, displacing the public's points of view in order to promote a better understanding of the challenges related to sustainability. In order to do so you will conduct some research at the AIR festival in Lyon from 21-27 May with the support of the author Matthew Null./ This will be achieved through research and interview workand a creative writing workshop The second half of the project will be about translating a story into a physical experience that will motivate people to act. In the end, your mission will be to build your installation during the international innovation lab DORP from 13-22 July in Leeuwarden in the Netherlands. At this innovation lab there will be plenty of inspiration, coaching and tools available on location to help you build. At the end of DORP you will inspire the public by presenting your stories and installation during the Welcome to The Village festival.
For this year's pilot edition, there are only six places available. Due to our partners at Tandem Europe, we will provide you with free coaching, workshops, lectures and we will reimburse your travel expenses to Lyon and Leeuwarden. Also, your accommodation and most catering will be provided during the AIR and Welcome to The Village festival. Students from the TU Delft can get 5 ECTS as part of the course 'WM0944TU Sustainable Innovation into Practice'. This course is part of the cluster B electives of the Graduation annotation 'Technology in Sustainable Development' (TiSD).
So are you ready to change the world?! Join us, for a unique learning experience over the course of two European festivals, a free exchange programme, and the opportunity to turn theory into practice!
Apply by filling in the application form here before April 16th and join us!
More information on the project you can find in our Project Guidelines. For any other questions, please contact : Aranka Dijkstra if you are at TU Delft at dorp@welcometothevillage.nl or Maria Cojocariu (m.cojocariu@villagillet.net) if you study at Université de Lyon : Lyon 1, Lyon 2, Lyon 3, ENS, Sciences Po etc.