Leiden-Delft-Erasmus Centre for Sustainability Students is looking for you!
Who are we?
The Centre for Sustainability Student Board is a student initiative appointed to be the student extension of the Leiden-Delft-Erasmus Centre for Sustainability. Centre for Sustainability aims to offer innovative and science-based solutions for circular economy. Read more about CfS here.
The CfS student board currently exists of 6 students with different backgrounds, representing all three universities. Our common interest is to speed up the transitioning to a circular economy. We want students, researchers, companies and the government to join forces in a field where interdisciplinary collaboration is highly needed. We do this by organising events, like symposiums, lectures and expert panel discussions and thesis markets where students gain interdisciplinary experience and inspiration to do sustainable research projects and meet future employers and co-workers. We, our community, are the next generation sustainability professionals.
One of our goals is to expand our network, and spread the message of sustainability and the circular economy, and for this, we need you - our ambassadors!
Interested? Send your CV and motivational letter to students@centre-for-sustainability.nl.
 
Deadline: 16th of October 23:59
Availability:
Monthly meetings in Rotterdam, The Hague, or Delft
4 month commitment/ at least 3 meetings (October 2018 - February 2019)
Joining events in your city, as well as across the network
What we offer:
A great opportunity to work with people with different knowledge but the same ideals
Freedom to explore your ambitions and ideas through organizing an event and expanding a sustainability community
Your personal social network development, you will meet a lot of students and professionals from all sciences that share similar interests
A useful activity for your resume
We are looking for students that:
are affiliated with sustainability
are willing to network and represent our organisation in a professional way
can organise one sustainable themed event per semester
In particular, we are looking for ambassadors to represent our organisation, and will promote it within their student community.
The following positions are open for application:
Rotterdam Ambassador

Must be a student at Erasmus University Rotterdam

Delft Ambassador

Must be a student at TU Delft
Join Us
The position requires a commitment of 3 meetings over the term, as well as the time required to organise your own event!
This will be of course done with the full support and resources of the Student Board, while you get the opportunity to organise the event you have always wanted to.
Are you creative, approachable and excited? 
Send your CV and motivational letter to students@centre-for-sustainability.nl.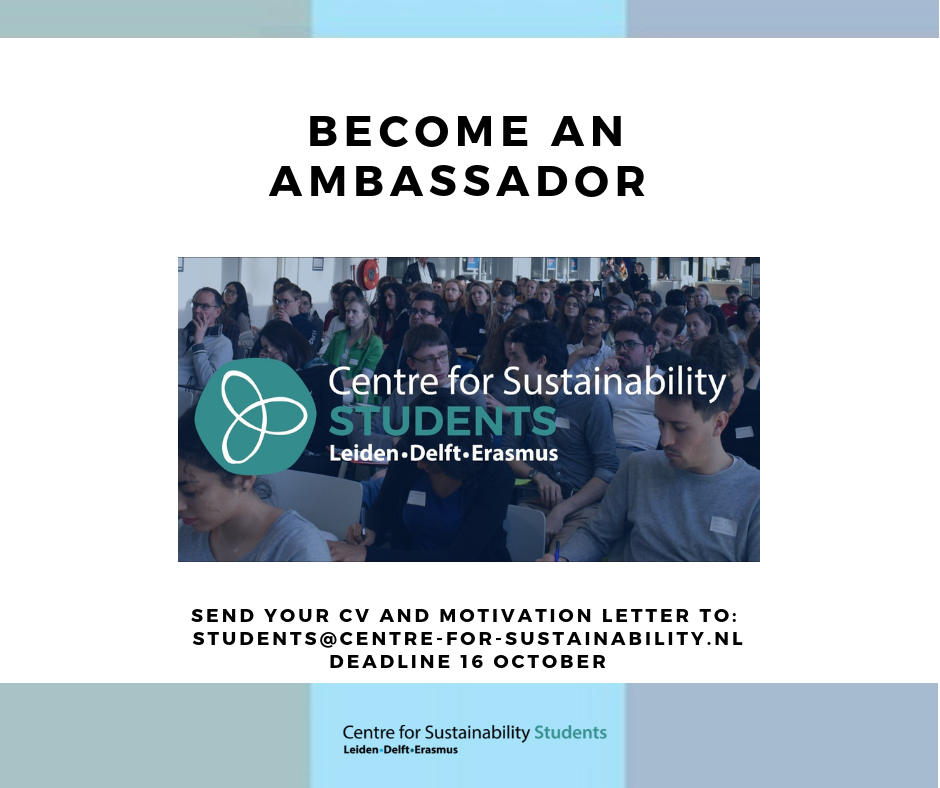 ---
Questions? Send us an e-mail or message us on Facebook. We are always willing to have a chat.
Send your CV and motivational letter to students@centre-for-sustainability.nl.
 
Deadline: 16th of October 23:59