Location
A1.196 Groot Handelsgebouw, Stationsplein 45, Rotterdam
How to sustainably deal with urban waste in a densifying city? How to inclusively redevelop an underused station area?
Assess and discuss our City Hub solutions at the Research Results market on Thursday the 20th of June! 
The city of Rotterdam is densifying its city centre. Districts like Pompenburg are redeveloped to become compact neighbourhoods with numerous high-rise residential buildings. At the same time, the municipality has the ambition to become a fully circular city, minimizing waste production and recycling what is left. In other words, innovative solutions are needed to deal with the 500 kilos of waste currently produced per person per year in Rotterdam's quickly developing vertical neighbourhoods.
Furthermore, in Delft Zuid, new developments pose challenges for inclusivity like participation of businesses and interactions between citizens and urban planners. This requires new solutions for inclusive city-making.
Our MSc students from Leiden, Delft and Rotterdam, have been working on these tasks and propose design solutions. Please be invited to assess and discuss their results and visions during this interactive idea market.
This networking event will take place in the Groothandelsgebouw unit A1.196 in Rotterdam on Thursday the 20th of June, between 16:00-19:00. The event is free of charge, registration is necessary.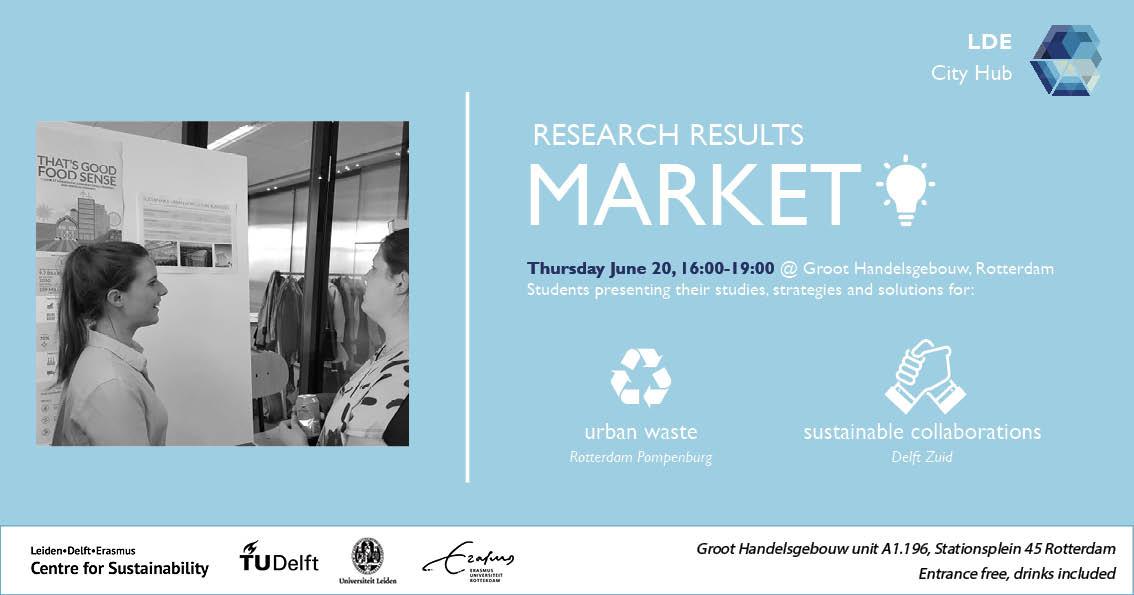 Topics
From 16:00 onwards, different students will showcase their studies on different topics:
Rotterdam Pompenburg:
•                 Household waste separation behaviour in high-rise Rotterdam
•                 Factors of household waste recycling behaviour in high-rise buildings.
•                 Incentives from developers to better separate residents waste
•                 Partnerships in the Dutch waste collection system
•                 The introduction of food waste disposal units and the role of the end-user
•                 The ideal system of waste collection
Delft Zuid:
•                 The challenge of systemic corporation in inclusive city making
•                 Productive interactions between citizens and urban planners
•                 Participation of businesses in the Delft Zuid development
•                 The city of the future and the post-war neighbourhood
•                 Using frame creation for problem-solving
We'd love to discuss these issues with you and to reflect on the studies of our students from Leiden, Delft and Erasmus during the market on the 20th!
Location & Travel directions
The event will take place in the Groot Handelsgebouw, unit A1.196. The Groot Handelsgebouw is located at the Stationsplein 45 in Rotterdam, in front of Central Station. Enter through (main) entrance A, go to the first floor and immediately turn left after leaving the elevator or stairs. There you will find the hub directly on the right with a view over the station square. When arriving by car you can park in the basement of the building, to be entered via the Conradstraat.