The province Zuid-Holland is a highly urbanised area.  When we talk about a circular Zuid-Holland, cities therefor play an important role. In the Cities Hub we research how the cities of the future will look like and what technical and social innovations are needed in order to create a healthy and sustainable environment for people. 
In our Cities Hub, we have two programmes: Inclusive Cities and Resilient Cities. Each programme has its own hub coordinator. 
Jump to Inclusive Cities   Jump to Resilient Cities 
---
Inclusive Cities Programme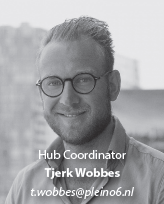 "In the Inclusive Cities Programme we focus on how innovations can be integrated in the streets and neighbourhoods of cities, aiming to an inclusive society."
Interested? Contact Tjerk Wobbes - t.wobbes@plein06.nl
Location: Rotterdam - Groot Handelsgebouw 

 
Research Themes
Our research is focused on the spatial and social implications of the circular economy.  These are our research themes:
Spatial implementations and urban planning.
Social interaction, inclusion and participation.
Circular and inclusive governance and business models.
What can you expect as a student?
Work spaces in the office of Plein06 (at Groothandels building).
Biweekly meetings with the Inclusive Cities Hub students and coordinator.
Learn how to present your work to stakeholders. 
Working on real cases that comes from municipalities and companies

---
Resilient Cities Programme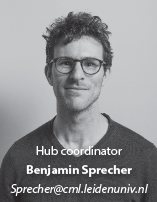 "In the Resilient Cities Programme we research the effects of different technological innovations in a city. How willa city look like if the sustainability targets will be achieved?"
Interested? Contact Benjamin Sprecher - sprecher@cml.leidenuniv.nl
Location: Campus Leiden University in The Hague 
Research Themes
In the Resilient Cities Hub we take a systematic approach to sustainable urban development.  Together with the municipalities we have formulated the following research themes:
The material basis of the city: urban metabolism and circular economy
The city and its urban ecosystem: biodiversity and sustainability 
The livabel city: mobility, local pollution and micro climate
The city within its plenary boundaries: resources depletion and climate change  
What can you expect as a student?
Extra seminars on resilience theories.
Monthly meetings in The Hague to exchange research progress.
Option to join a writing course.
Possibility to influence policy makers by researching real challenges in cities.