30th international agrifood conference paves the way for radical change
From 15-18 June more than a thousand pioneers will meet at the world food conference IFAMA 2020. Their focus will be on discovering how the current food system can be transformed into a future proof circular agrifood network. One of the key solutions is joining forces in new and more comprehensive ways. IFAMA 2020 'Food for the Future' is the ultimate platform to get inspired, share innovative ideas and expand networks.
Time for change
Taking place in the conference centre De Doelen in Rotterdam, IFAMA 2020 will bring together the brightest scholars, the most audacious entrepreneurs and the most visionary minds. They are welcomed by moderator Dick Veerman, founder of the critical blog Foodlog. In his view, mankind finds itself at a crossroads in history: "Our existing way of organising the economy has reached its peak. We are facing a transition that will have to convert our old habits of chasing endless growth and more consumption into growth in quality of life, sharing and less consumption. We need to reinvent our economy – and the food industry."
Towards a circular future
Luckily, more and more companies acknowledge the need to contribute to this change in order to stay relevant. Taking on these challenges requires new modes of cooperation, as they are far bigger and more complex than any individual company or government can tackle. By cooperating with other stakeholders, these networks encourage shared innovation to address global AgriFood challenges and develop circular business models. The ultimate and collective aim is to provide enough safe and healthy food for a growing population while using the same area of land and less non-renewable inputs.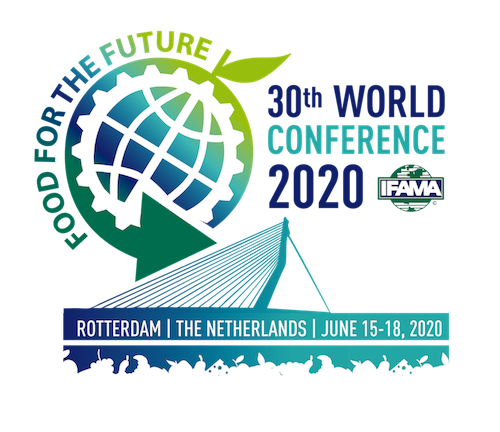 Wide-ranging program
The four-day IFAMA program covers all aspects of the food system: from horticulture to meat production, from waste management to digitization. International and national speakers from businesses, universities and pioneering institutions will organize sessions on for example the role of food in preventing illnesses, the ways we can protect and utilize biodiversity, and strategies to reduce livestock emissions.
Location and organization
The Netherlands is among the most innovative and efficient countries in the world. Moreover, we are the world's second-largest exporter of agricultural products. And we have set the ambitious goal of being fully circular in 2050. By hosting IFAMA 2020, food hub Rotterdam supercharges the transformation from a detrimental linear food system towards a resilient circular agrifood network. The conference is organized by IFAMA (International Food and Agribusiness Management Association) and Rotterdam Food Cluster (a City of Rotterdam initiative), in partnership with Wageningen University & Research, WICaNem, Inholland University of Applied Sciences, and, Leiden-Delft-Erasmus with the Centre for Sustainability. More information can be found at www.ifama2020.org.