Greenport Hub and the World Horti Center 
The World Horti Center is the global knowledge and innovation center for international greenhouse horticulture. The center offers educational, research and presentation services for anyone active in the international greenhouse horticulture sector. The CfS Greenport Hub is a partner of the World Horti Center and hence forms the bridge between the universities Leiden, Delft and Erasmus and the horticulture sector.
Official opening by Queen Maxima and minster of agriculture Carola Schouten
Official Opening 7 March
On March 7th, the World Horti Center will officially be opened by Queen Maxima and the minister of agriculture Carola Schouten! As a knowledge partner, Centre for Sustainability (CfS) will be present at the ceremony. Our scientific director Arnold Tukker, our board member Lucas Meijs and the Greenport Hub coordinator Coen Hubers will be joining this official opening which will take place in the morning. The afternoon session is open for everyone interested in research and innovation in the horticulture sector. 
More information about the opening
About the Greenport Hub 
In the Greenport Hub we research how we can feed a growing world population with high quality nutrients from the horticulture sector.
The world population is growing rapidly, while the agricultural land availability is decreasing due to climate change.  Radical changes are needed to feed the population in a healthy way with high quality nutrients. The horticulture sector plays an important role in this need. In the Greenport Hub we focus how the horticulture can provide the world population with healthy in a circular and sustainable way.
There are four main research themes in this hub listed below.
1) Plant compounds and circular economy  
2) Food and a healthy society  
3) Digitalisation in the horticulture sector
4) Sustainable urban delta's.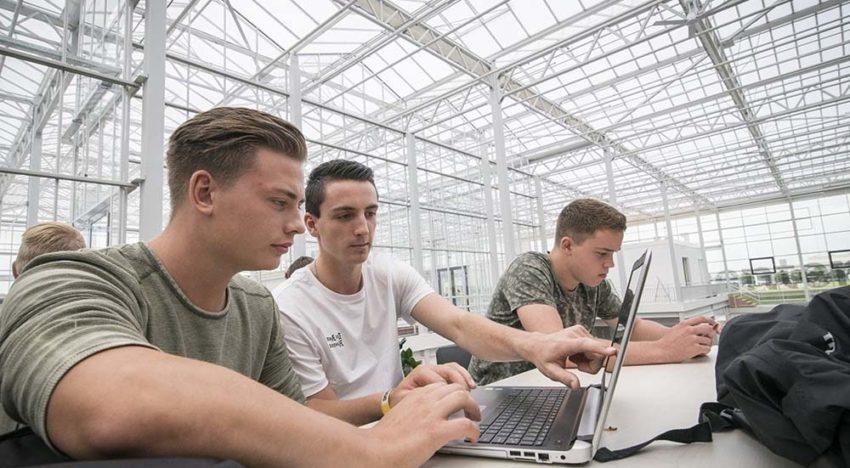 Why the Greenport Hub?
To face the challenges of tomorrow, the horticulture sector has to change radically to develop a sustainable and circular industry that can contribute to the health and well being of our society.  We need more knowledge to be able to make this transition. In this hub we therefore conduct research to issues around sustainable energy technologies,  digitalisation, water management, bio-based materials and commercialising of fruit and vegetables and more.  We bring science to the heart of the horticulture sector: we organise lecture series together with scientist and experts from the horticulture sector; we organise hackathons with students and companies and we have graduation programmes for master students. 
Knowledge and innovation hubs within CfS
The Greenport Hub is one of the three knowledge and innovation hubs we have. In our hubs we work together with students, researchers and society (from companies to municipalities) to develop science based solutions for a circular and sustainable future. You can join the hubs as a researchers, students (graduation assignments/internships) or organisation. 
Read more: how to join our hubs