Leiden-Delft-Erasmus Centre for Sustainability Students is looking for you!
Who are we? 
The Centre for Sustainability Students is a student initiative appointed to be the student extension of the Leiden-Delft-Erasmus Centre for Sustainability (LDE CfS), that focuses on circular economy. We are a board of six students from different universities and with very diverse backgrounds but with a common interest in transitioning to a circular economy. Our objectives are to connect students, researchers and PhD's to create a community among the different universities. 
The following positions are open for application:
President
External relations manager

Social media/content manager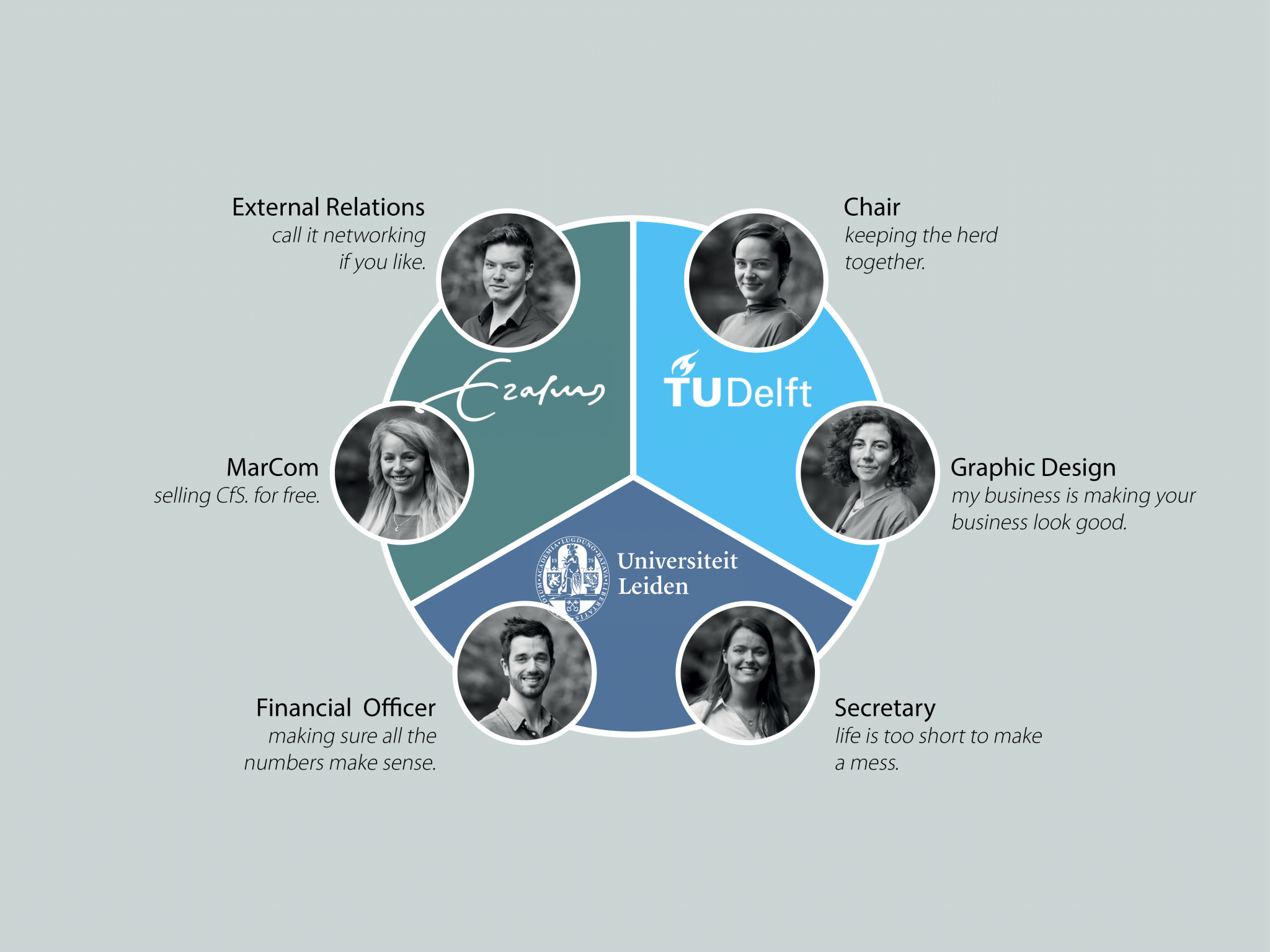 General requirements are that you are:
studying at one of the three universities (Leiden, Delft and Erasmus)
willing to contribute to the community-building
someone with a hands-on mentality and likes to get things done
someone who knows his or her way around campus (network)

able to deal with a lot of responsibility and freedom
General pré:
Experience with graphical design software (Photoshop, Illustrator, Indesign)
Native English speaker
Available positions:
We are looking for three (3) new board members that fall into the following profiles (regardless of which university you are enrolled).
1. Chair
As chair you are responsible for coordinating and leading the board. Thereby you will have weekly meetings with the associate-director of CfS, give approval for necessary budget and keep track on the long-term goals of our organization.
What are we looking for in our new Chair?
√ Strong internal (everything from structuring meetings to providing constructive feedback) and external communication skills
√ Persistent
√ Ability to create a shared vision and involve the team
√ Experienced in leading teams
√ Leadership skills
2. External Relations & Acquisition Manager
As acquisition manager you are the main point of contact between the internal organization and external organizations. You aim to create strong ties with external parties such as companies, student organizations and (non-profit) organizations. Think of networking with these organizations, discussing possibilities to cooperate in terms of in-house days, business cases, thesis market or events. Through this you help achieve the goal of CfS to become self-sufficient from 2019 onwards.
What are we looking for in our new External Relations manager?
√ Strong communication skills
√ Broad network within the university and beyond, strong motivation to expand it
√ Negotiation skills
√ Commercial mindset
Pré: Previous experience in organizing cases/events and sales
3. MarCom Manager
As MarCom manager you enjoy creative writing and you are an online community wiz. You thrive on connecting people and broadening networks throughout different forms of social media. You are savvy with online platforms and can navigate easily through them.  You know how to write interesting and appealing texts and like to be creative in your presentation of attractive content. In general you are responsible for how we present ourselves as organization to our network. 
What are we looking for in our new MarCom Manager?
√ Social media savvy
√ Good writing skills
√ Some experience with monitoring social media statistics, or eager to learn
√ Your Facebook wall is filled with some interesting sustainability-related news you just had to share
 Pré: experience in monitoring/analysing social media  
Why join us?
√ Able to have a significant contribution creating a circular economy network between all three universities
√ Broaden your network within the universities (students, PhD's, researchers) and with external parties
√ Freedom to initiate your own projects and events
√ Work with multidisciplinary students and facilitate this collaboration
√ Around €200,- compensation per month
√ Awesome drinks and team events
Practicalities
- Start date of the board year is 1/9/2017. The board year is two semesters (1 academic year), ending on 31/08/2017. However, the orientation period starts in August 2017. This means the transfer of knowledge, experience and projects from the previous board member to you will take place beforehand.
- Average workload is 6-8 hours per week
- Bi-weekly meetings in Leiden University Campus in The Hague
- Workspaces in Rotterdam and The Hague.
How to Apply?
Send your C.V. and motivation letter (max one A4) to students@centre-for-sustainability.nl
The deadline: June 14th 23:59 
In case you are selected, we will invite you for an interview. After the interviews have taken place, the new board members will be announced.
In case you have any questions, please feel free to contact us on facebook or send an email to students@centre-for-sustainability.nl.